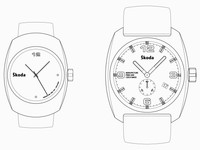 By using the same techniques as for designing a car, I tried to form a unique connection of these watches to Škoda cars. I designed many versions and selected one of them. This chosen design was followed by production. This is typical process in car design.
The aim of the watches is sale promotion of the cars and support of the Škoda brand itself.
The final look of the watches and their pattern was inspired by the car's speed indicator, as well as the engineering technology of the producer.
The watches are produced by Prim.