Carafe and water glass Ona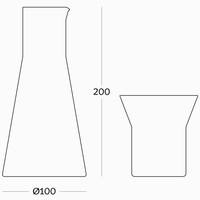 Carafe and water glass is intended for beside table for nightly drinks. It can hold a half a liter of liquid.
I wanted a very thin carafe, Lobmayerish thin — almost imaginary. I needed something to hold water but to look as if it were made out of the water itself.
I designed the carafe and water glass when I worked at Olgoj Chorchoj design studio in 2005.
It is produced and sell by Moravian Glassworks Květná.