Re pello Model 16 Wooden bike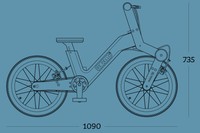 Model 16 is full suspension bike for children aged from 4 to 6 years, made of birch plywood.
The patented LVS™ suspension system was created by design engineer Jiří Marján.
Thanks to the suspension system vibrations are significantly reduced when riding on any surface. The suspension system protects the child's body from harmful vibrations and provides a comfortable riding experience.
Re pello Model 16 was exhibited at Prague's Designblok in 2017.